Clallam County ARES
Great Olympic Adventure Trail Marathon

ARES Ham Radio Involvement
This page provides information about CC ARES participation in in providing communications support for the GOAT marathon event.
Check the Great Olympic Adventure Trail (GOAT) Marathon website to read about the details on the race.
This event covers a wide variety of rugged terrain, and there is no cellular service along many portions of the event course. Because of this, ARES volunteers provide emergency communications for safety. The ARES volunteers are stationed at each of the Aid Stations, or at least in very close proximity to them. The locations of the Aid Stations are shown on the map below.
---
Course map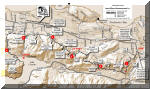 Click for larger view
On the day of the event, the ARES participants check into the resources net and then proceed to their assigned station.
Summary of Radio Needs:
Radio Frequencies in use on race day
| | | | | |
| --- | --- | --- | --- | --- |
| Function | Frequency | PL Tone | Offset | Comments |
| Primary Communications | 146.760 | 100.0 | -0.600 | Channel 17 - Stripped Peak repeater |
| Secondary Communications | 147.520 | -- | -- | Channel 36 - PA Simplex |
Supporting information, FAQ
Medical issues
The vast majority of medical problems are muscle cramps and related ailments. Often they may resemble a "charlie horse" type pain and some may have never experienced one before. Not a pleasant feeling! The person may or may not be able to move on his or her own. The usual guidence is to direct them to the nearest AID station where some comfort can be provided. Massage usually eases the pain but thats not your job. Notify "finish" of their "bib" number and
nature of compliant. If possible, have them stay with you until you get further instructions so staff can verify what is the best
plan. They usually recover enough to gain mobility on their own. These are usually not serious and require no further
assistance. At least one ham station can expect to be approached by someone with this medical condition. Know where to
direct them and how to handle it. You will look much more professional if you think these out beforehand.
If a
serious condition
is suggested, call for immediate help on the radio. A medical team will be ready to help. Be sure and
give "bib" number, nature of problem and your location. Medical problems of this nature have highest priority. Also, notify
any others in your vicinity that might have medical training. Stay close to the radio/racer and offer help and comfort but only
to the limits of your medical training. Keep "Finish" informed of status until professional help arrives. The sports doctor tells
us that a race of this nature will average one serious medical condition in about four races. Statistically, maybe one in 5,000
racers.
What if a runner wants to leave the course?
I

f you are approached by someone with this request, they should be directed to the nearest AID station which are co-located
with our radio assignments. Follow reporting directions above as for minor medical conditions. The course marshal will make any decisions regarding the runner.
Too often a runner says they are going to drop out but then decides to return when he/she feels better. Ask them to notify you if
they change their mind because people could be looking for them.

What else do we do?
Relay racer status information to Finish: first male, first female, for both full and half-marathon. Full marathon runners have red bib numbers, half's have black numbers. Encourage runners: cheer & clap, or whatever moves you. Present a professional demeanor of the organization, wear your ARES vest, be friendly to the event staff. Have fun!
What do we use for call signs?
Use tactical call signs for frequent communications but be sure to ID periodically per FCC requirements.
Positions we staff
Tactical Name
Position
Name / Callsign
Start Time
End time
(estimate)
Comments
Resources
--
0700
1000
Start
#1
0800
0900
#2
Aid Station 1
#1
0800
0900
#2
Aid Station 2
#1
0830
1045
#2
Aid Station 3
#1
0900
1215
#2
Aid Station 4
#1
0930
1300
#2
Aid Station 5
#1
0945
1400
Special antenna needs
#2
Aid Station 6
#1
1000
1530
Special antenna needs
#2
Finish
#1
0800
1600
Special antenna needs
#2
---
Click on the thumbnails to see the photos from previous events

W7WEC & KE7TTT
2014 Finish


KF7VAL & KE7TTT
2014 Finish

KA7CSZ Station #2 2014

Y7YLV & WX7RIK
Station #6 2014

2014 Half marathon start

2017 Finish
AA0RD, KD7WBM, N1ERT
Thanks to all the volunteers who worked this event!
---
Page Updated: 09/19/17